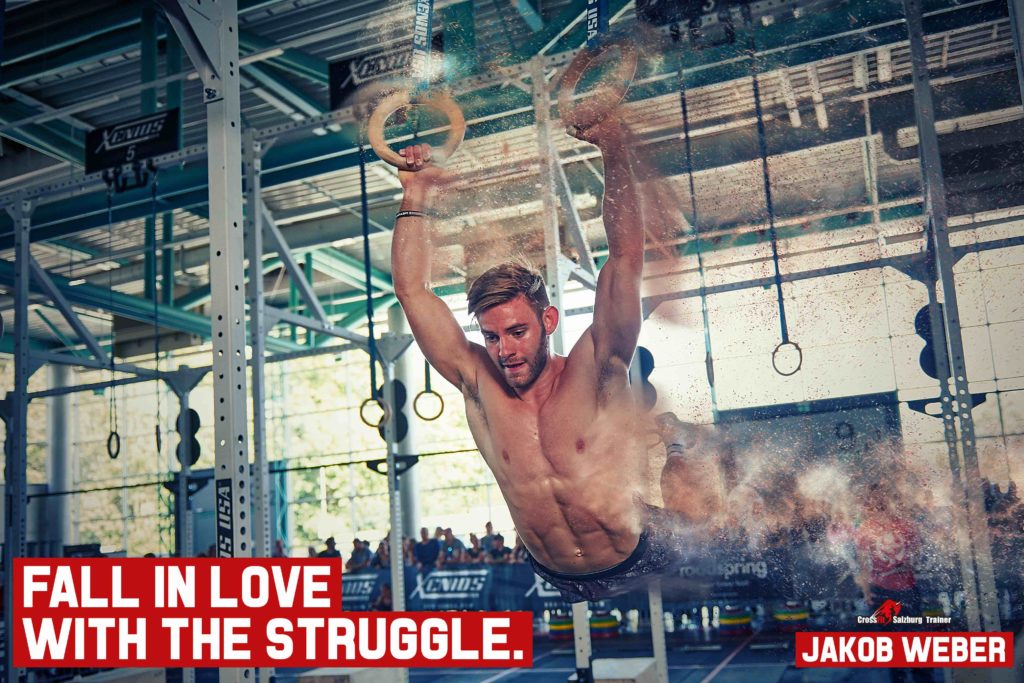 So erlerne ich CrossFit?
Nachdem Du bei deinem Probetraining gefallen daran gefunden hast Deine Fitness zu verbessern laden wir Dich nun zu einem ganzen Probemonat zu uns ein.
Jeder Besuch, jedes Warm Up, jede Strength- und Skill – Session und jedes Workout bieten Dir Gelegenheit dazu zu lernen.
In dieser Zeit findet die größte Veränderung zwischen deinen Ohren statt. Keine Angst dein Körper folgt zugleich.
In Deinem Try-Out Monat (30 Tage gültig ab Einzahlung und endet automatisch.) nimmst Du an so vielen WODs (Workout Of the Day) wie möglich teil.
Du erlernst die Techniken und Bewegungen der drei Domänen. 
METCON-GYMNASTICS-WEIGHTLIFTING. 
Mit jedem Workout werden deine Ausführungen besser bis du sie im Schlaf beherrscht.
Nach und nach erhöhen wir die Intensität entweder durch höhere Gewichte oder Geschwindigkeit.
Zusätzlich machen wir Deine Fortschritte messbar mit unserer "WODIFY" App.
Hier trägst du nach jedem Workout deine "Scores" Ergebnisse ein.
Denn nichts ist überzeugender als beobachtbare, messbare, auf Daten basierende Erfolge.
Zusätzlich erhältst Du während Deines Tryout Monats Zugang zu den 3 "SPECIALTY BASIC CLASSES" 
1.: "Weightlifting"jeden Dienstag um 19:00h, 
2.: "Gymnastics" jeden Donnerstag um 19:00h und 
3.: "Lifting Weights" jeden Freitag um 15:30h. 
In diesen Kursen erlernst Du die "9 Fundamental Movements of CrossFit". Es ist notwendig, dass Du während Deines Try-Out Monats alle 3 Classes zumindest einmal besuchst, bevor Du ein CrossFit Salzburg Mitglied werden kannst. 
Dieses Paket beinhaltet oben angeführte Leistungen und kostet € 149,- inkl. MWSt, zahlbar mit Start deines Try-Out-Monats in Bar oder Überweisung. (Studenten und Schüler Tarif "Tryout Monat" € 99,-).