3D "WEEKLY FITNESS CHALLENGE"
CAN YOU STAND THE COLD? Wie gut funktionierst Du bei -10°C
Heating: 10 min.
20 min Zeit um deinen stärksten Overhead Lunge zu finden!
REDZONE:
5 Runden auf Zeit:
7 Overhead Squats @ 50/30kg
Sprint 200m (100m uphill/100m downhill)
Ort: Puch/Urstein 18.30h Temp.: -10°C
Unsere "ICE-BREATHERS"
Doris: 10:37@15kg, 25kg Lunge
Lisa: 12:15@20kg, 25kg Lunge
Anita: 9:36@25kg, 25kg Lunge
Emanuel#16: 10:36 rxd 60kg Lunge
AndiDiwald#10: 8:57 rxd, 70kg Lunge
"3D Crosstherapie" Reini 12.er Tag Post OP z.n. XBand Rupt Semit. Plastik: 3 Runden aus 21 OHS@PVC Pipe, 50m Walk (25uphill/25downhill) 10min.
The Guinness world record holder has immersed himself, nearly naked, in ice for one hour and 12 minutes.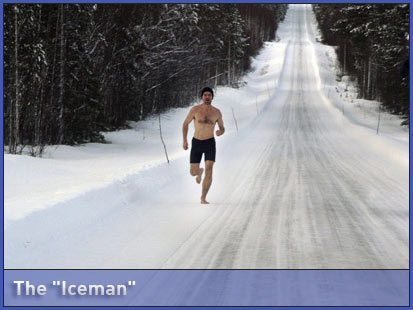 In January 1999, he traveled 100 miles north of the Arctic Circle to run a half marathon in his bare feet. Three years later, dressed only in a swimsuit, he dived under the ice at the North Pole and earned a Guinness world record for the longest distance swimming under the ice: 80 meters, almost twice the length of an Olympic-size pool.
Hof earned more recent renown for scaling Mount Everest in his shorts.
Hof told ABC News' "20/20" that his ability to withstand cold temperatures was something he discovered more than two decades ago.
"I had a stroll like this in the park with somebody, and I saw the ice and I thought, 'What would happen if I go in there?' I was really attracted to it. I went in, got rid of my clothes. Thirty seconds I was in," Hof said. "Tremendous good feeling when I came out. And since then, I repeated it every day."
Demo OHWL Mangi, Lisa;
httpv://youtu.be/yIynWa81ds8
Demo OHWL Andi
httpv://youtu.be/n8Plo8zlSP4
Demo Overheadsquats Lisa, Andi, Anita;
httpv://youtu.be/9Y9p5RtwbmM
Demo OverheadSquats Reini 12.er Tag PostOP Z.n. XBand Ruptur Semit. Plastik
httpv://youtu.be/AWANlQ5ts9I